Economy Controls Corporation is a third generation family owned business established in 1935 as engineers and distributors of Boilers and Combustion Controls. In the 60's they developed an electromechanical flow control system for oil burners under the trade names Econoflo and Econotrol, and in the early 70's these products were adapted into liquid batching, blending, and additive injection products for Industrial, Chemical, and Petroleum Industries.
Economy Controls was a leader in supplying all digital solid-state control systems in the 70's, and designed its first microcontroller system by 1983. Economy Controls has a unique ability to provide fast solutions for specialized applications, rather than "force fitting" an application into an existing design. As illustrated on the company's web site, all system components can be packaged for "drop and go" installation, eliminating extensive customer set-up time and related expenses.
Today, as a systems integrator and manufacturer, the company's range of fluid transfer products are in service in a variety of applications throughout the world. Every year, parts and technical support go out on systems that were manufactured over 30 years ago, and the company's commitment to building heavy-duty products that last has not changed.
The production of an Explosion Proof Computer with RS232 or wireless control, accessible over the internet, is another example of leading edge technology, all supported by an extensive product warranty.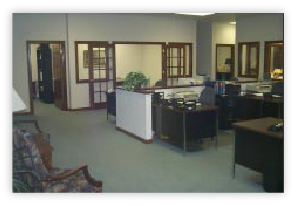 Our Facility on 1+ Acre in St. Louis
County is Centrally Located for
National Distribution